With a constantly updated set of machines made up of over 20 presses with different tonnages, gas and induction furnaces, as well as several innovations introduced over time and still difficult to match today, Figros is today a reference point also for the hot stamping of copper and aluminum alloys.
THE PRODUCTS
The characteristics of the materials used in hot stamping, as well as the particularities of the process, able to generate exceptional mechanical and surface properties, as well as precise details, mean that the technology is suitable for the realization of a variety of items for the fashion-luxury sector (buckles, rings, charms, components for closures, zip pullers, etc.) and also for all those sectors that make these properties fundamental elements.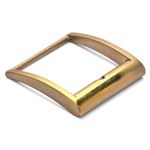 THE PROCESS
The hot stamping process consists in deforming a piece of metal previously made malleable through pre-heating in the oven by pressing it between two suitably shaped steel molds, and is typically connected to a cold blanking operation necessary to remove the stamping burr.
MATERIALS
Through hot forging Figros can process different materials including:
Brass and lead-free brass (Ecobrass), the most used material by the fashion industry thanks to its aesthetic value as well as its ease of subsequent processing
Aluminum, usually chosen for its lightness combined with the excellent mechanical properties given by the forging process
Other forgable alloys such as Bronzes, Steel and Titanium are not stored in stock, but can be processed if the market requires it.
ADVANTAGES
The hot stamping process is widely used thanks to a set of exceptional properties:
Density, absence of porosity, excellent surface quality
Exceptional mechanical properties due to the alignment of the fibers of the material
Straight, precise and square edges, thanks to the blanking process after stamping
Ease of subsequent processing through mechanical processing, soldering and surface coating (be it galvanic, painting or PVD)